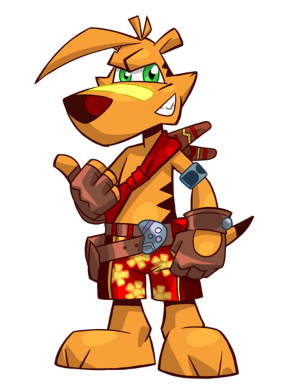 TY
is the main playable protagonist of the TY the Tasmanian Tiger series. He'll appear in a future What-if? Death Battle.
Fandom Wiki Ideas So Far
History
Death Battle Info
Background
Species: Tasmanian Tiger (Thylacine)
Age: 22
Height: 100 cm
Weight: Unknown
Boomerangs
Zoomerang

Has a built-in telescopic sight and the longest reach of all boomerangs
Can zoom in on far away objects
Is very useful for allowing Ty to snipe large groups of enemies from a distance to avoid large brawl

Megarang

Can target up to 3 enemies in a single throw
Homes in on multiple enemies

Zappyrang

Shocks enemies into submission
Can be used to jump-start old equipment such as broken-down generators

Deadlyrang

On impact, sends up a big mushroom cloud explosion that sends anyone caught up in it to the great beyond
Has a larger range than standard boomerangs

Kaboomerang

Able to throw two of them in a graceful figure-8 pattern
Explodes when they collide
Can bust metal crates

Multirang

Multiplies the number of boomerangs Ty can throw

Flamerang

Can melt ice, create fireballs on impact and burn away spider webs
Can also burn the bats of Skinks
Able to harness the power of Fire Thunder Eggs

Infrarang

Lets Ty see things he wouldn't normally be able to see
Reveals hidden objects, spies and even fake ghosts
Flies a lot farther than Ty's average boomerang

Frostyrang

Can put out fires, freeze enemies and create ice stepping stones in water
Able to use energy from Ice Thunder Eggs

Lavarang

Can burn objects and obstacles
Also creates a large spurt of lava on impact and burns up any enemy in the splash radius, reducing them to a pile of ash

X-rang

Reveals hidden objects
Can also reveals Madame Mopoke's secrets in the Mini-Map

Omegarang

Able to ricochet between enemies

Lassarang

Allows Ty to latch onto special hooks and swing across chasms and gaps
Can also spin enemies into the ground

Lassorang

Works like a lasso as it's name implies

Smasharang

Is stronger than the standard boomerang
Can bust through doors, walls, even metal creates
Appears to be made of some sort of rock

Chronorang

Can affect the time field around enemies
Slows down whatever it hits

Aquarang

Works like a regular boomerang, but can be used underwater
It's hydrodynamic design lets it slice through water like a normal boomerang flies through the air

Freezerang

It's powerful icicles instantly puts the deep freeze on enemies
Can even put out blazing inferno
Like the Frostyrang, also can form stepping stones of ice on water

Thunderang

Can stun enemies with a burst of thunder
Sends out a concussion wave that knocks enemies to the ground

Warperang

Upgrades the Lasharang's low-tech rope with a Trans-Dimensional warp coil, allowing Ty to swing from rings
Can also target special crystals to teleport through fences, onto high-up platforms, etc.
In combat, drill enemies into the ground

Doomerang

The most powerful boomerang in Ty's arsenal
Is a essentially guided missile that can be controlled by Ty
Feats
Weaknesses
Ad blocker interference detected!
Wikia is a free-to-use site that makes money from advertising. We have a modified experience for viewers using ad blockers

Wikia is not accessible if you've made further modifications. Remove the custom ad blocker rule(s) and the page will load as expected.