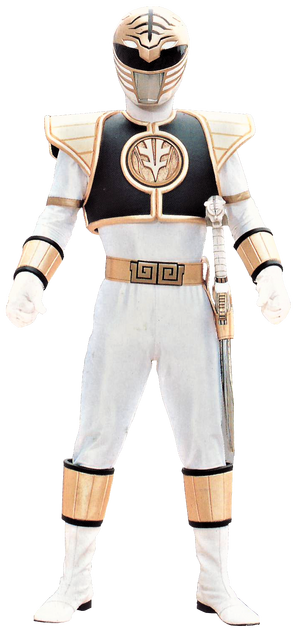 This page covers Tommy Oliver on his own without the White Tigerzord. To see Tommy Oliver alongside it, click here.
Tommy Oliver is a character from the Power Rangers media franchise. He has had many incarnations as a Power Ranger, but the most famous is the White Ranger.
Fanon Wiki Ideas So Far
As the Green Ranger
As the White Ranger
In the Dragonzord
In the Tigerzord
With the Mighty Morphin Power Rangers
Battle Record:
WARNING: The following tab will reveal the numbers of wins and losses for the following character. Read at your own risk.
Battle Record
Wins: 5
Losses: 4
Draws: 0
Possible Opponents
As Lord Drakkon
Batman (As The Batman who laugh)
History
Death Battle Info
Background
Real Name: Thomas "Tommy" Oliver
Height: 5'11"/1.8 m
Weight: 214 lbs/97 kg
Weapons: Saba
Length: 28 in/51 cm
Sentient sabre
Can fire lasers & fly independently
Martial arts: Karate, Kenpo, Taekwondo, Judo, Shinkido
Has had 5 different Ranger powers
Feats
Managed to defeat the Mighty Morphin Power Rangers in their first encounters when he was the Green Ranger.
Flaws
Gallery