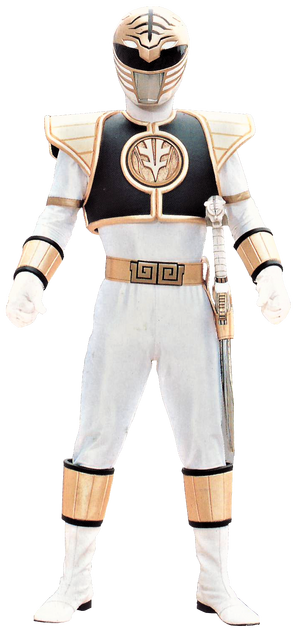 This page covers Tommy Oliver on his own without the White Tigerzord. To see Tommy Oliver alongside it, click here.
Tommy Oliver is a character from the Power Rangers series. He has had many incarnations as a Power Ranger, but the most famous is the White Ranger.
Fanon Wiki ideas so far
With the Mighty Morphin Power Rangers
In the Dragonzord
Completed Fights
Battle Record:
WARNING: The following tab will reveal the numbers of wins and losses for the following character. Read at your own risk.
Battle Record
Wins: 4
Losses: 4
Draws: 0
Possible Opponents
As Lord Drakkon
Batman (As The Batman who laugh)
History
Death Battle Info
Background
Real Name: Thomas "Tommy" Oliver
Height: 5'11"/1.8 m
Weight: 214 lbs/97 kg
Weapons: Saba
Length: 28 in/51 cm
Sentient sabre
Can fire lasers & fly independently
Martial arts: Karate, Kenpo, Taekwondo, Judo, Shinkido
Has had 5 different Ranger powers
Feats
Managed to defeat the Mighty Morphin Power Rangers in their first encounters when he was the Green Ranger.
Flaws
Gallery
Ad blocker interference detected!
Wikia is a free-to-use site that makes money from advertising. We have a modified experience for viewers using ad blockers

Wikia is not accessible if you've made further modifications. Remove the custom ad blocker rule(s) and the page will load as expected.