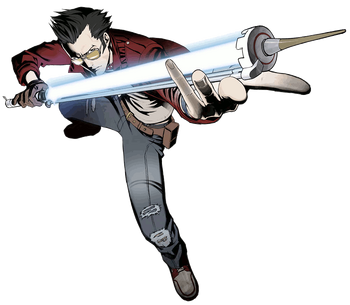 | | | |
| --- | --- | --- |
| " | It's game time! | " |
| | ~ Travis Touchdown | |
Travis Touchdown is the main protagonist of the No More Heroes series.
Fanon Wiki ideas so far
Possible Opponents
Battle Record
WARNING: The following tab will reveal the numbers of wins and losses for the following character. Read at your own risk.
Battle Record
Wins: 1
Losses: 0
Draws: 0
History
Death Battle Info
Background
Nicknamed: 'No More Hero' and 'Crownless King'
Age: 30
Nationality: American
Occupation: 'Professional' Assassin, Lucha Libre, and Otaku.
Abilities
Superhuman physical characteristics  
Master Swordsmen
Skilled Assassin 
Adept Wrestler 

Frequently uses suplexes during a fight

Extremely Lucky
Can briefly transform into a Tiger
Ecstasy Mode

When in prolonged combat, Travis will get excited and have an adrenaline rush enhancing his strength and speed for a short period of time
Dark Side Mode
Strawberry on the Shortcake.

Travis' hair glows yellow, like a Super Saiyan, and his beam katana is supercharged.
Speed increases exponentially allowing him to speed blitz his opponents.

Blueberry Cheese Brownie.

Fires waves of energy to annihilate opponents.

Cranberry Chocolate Sundae.

Everything turns monochrome.
Restricts Travis' movement to walking, but allows him to one shot opponents by cutting off their limbs, impaling them straight into the air, and then slash them into two.

Anarchy in the Galaxy.

Allows Travis to momentarily stop time and rain down pink energy, destroying everyone around him.

Cherry.

Activates by yelling "This is the end!" and slowing down time to a crawl.
Weapons
Blood Berry.

Travis' first primary and trademark weapon.
A primitive looking Beam Katana which Travis earned through an online auction.
The weapon that kickstarted Travis' career as a hitman.

Tsubaki

A series of beam katanas created by Dr. Naomi for Travis.
MK I is a prototype the provides better durability than the Blood Berry.
MK II is more complete then the MK I and is labelled as the most powerful beam katana ever produced, but it requires to be held by two hands to be properly used.
MK III is the complete model of the Tsubaki, though weaker then the MK II it operates at maximum efficiency and doesn't require to be recharged.

Peony

Another beam katana made by Dr Naomi.
Requires being wielded two-handed and trades speed for strength.
The blade extends based on the wielders Ki or Travis' ecstasy gauge.
The blade's length decreases the more Travis' health goes down.

Rose Nasty

A pair of curved beam katanas.
Given to Travis in the will of his best friend Bishop.
Provides great speed and manoeuvrability.
Feats
Kills multiple trained assassins of the United Assassins Association to reach the top. 

Kills Helter-Skelter; the 11th ranked Assassin.
Decapitates Death Metal; the 10th ranked Assassin.
Cuts down Dr. Peace; the 9th ranked Assassin.
Defeats Shinobu, the 8th ranked Assassin
Vertically bisected Destroyman; the 7th ranked Assassin.
Bests Holly Summer; the 6th ranked Assassin.
Murders Harvey Moiseiwitsch Volodarskii; the 4th ranked Assassin.
Kills Speed Buster; the 3rd ranked Assassin.
Barely beats Bad Girl, the 2nd ranked Assassin (Though he admitted she defeated him just before she bleeds out). 
With help from Shinobu kills Jeane; Travis' childhood love interest, half-sister, and the 1st ranked Assassin after killing the previous holder of the title.
Decapitates Cloud wannabe Skelter Helter; the younger brother of Helter-Skelter and 51st ranked Assassin.
Cuts Nathan Copeland in-half; the 50th ranked Assassin.
In a mech battle, he defeats Charlie MacDonald; the 25th ranked Assassin.
Knocked out Kimmy Howel, the Nation Student Assassin champion.
Defeats Matt Helms; an undead pyromaniac and the 24th ranked Assassin.
Cuts down Cloe Walsh; the 23rd ranked Assassin.
Destroys Dr. Letz Shake, a giant mech that formerly held the 5th rank but turned into the 10th ranked Assassin.
Defeated Ryuji, the 5th ranked Assassin, both in a sword fight and a motorbike Sumo match.
Bests Margaret Moonlight, the 4th ranked Assassin.
Defeats Captain Vladimir, former Russian Cosmonaut turned 3rd ranked Assassin.
Bisects Alice Twilight, the 2nd ranked Assassin.
Got his revenge for Bishop by killing Jasper Batt Jr., the 1st ranked Assassin.

Fought evenly with his brother Henry, who effortlessly slashed through the giant robot; Letz Shake. 
Tanks multiple point-blank grenade explosions.
Shrugs off Margaret Moonlight's song which had put Sylvia into a coma for a week when hearing it 100 yards away. 
Shrugged of being electrocuted, multiple times.
Can will himself to ignore death and keep on fighting. 
Bangs Sylvia so hard that the signs of the hotel he stays at fall off. 
Survives Cloe Walsh's poison.
Fast enough to block multiple bullets and laser beams with his beam katana.
Withstands the blades of a chainsaw and multiple beam katanas
Can slice people to bits in an instant.
Survived a point-blank mine explosion. 
No sells being impaled. 
Faults
Same weakness as any mortal man.
Can be easily tricked. 
Forced to forfeit his fight with Bad Girl only winning when she succumbs to her wounds. 
Easily overconfident. 
Beam Katana's have a limited charge and need to be rapidly shaken for it to be charged which can take three seconds.
Beam Katanas aren't waterproof. 
Immature, brash, and perverted. 
Has some reluctance in fighting let alone killing women. 
In poverty and only accepts his job as an assassin to buy more video games.
Can be caught off-guard.
Can only access his Dark Side Mode after delivering a Death Blow to a regular enemy
Gallery