Turok is the main protagonist of the same title series.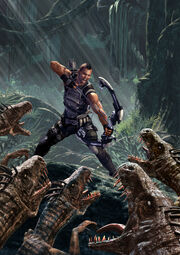 Background
Full name: Joseph Turok
Native American Heritege
was Actually a Comic book Character before being a Video game Character
Dinosaur Hunter
All-around Badass MoFo
Once a member of Wolf Pack
Weapons
ORO P23 Combat Knife
ORO C9 Perforaror compound Bow
ORO HOG 9mm Handgun
ORO FP9 SMG
ORO Enforcer Shotgun
ORO War Horse mini-gun
ORO Redfist RPG
ORO L66 pulse rifle
TRIGLAV 92 Stalker (T92) Sniper Rifle
ESUS Blackfly sticky bomb him
ORO FG8 grenades
Free-Standing torrents
ESUS Fireplace Flamethrower
Powers/Abillities
Millitary Training
Survivalist
Great Strength
Feats
Able to out run Dinosaurs
Killed multiple T-Rexs
Defeated a Spinosaurus
Killed countless Dinosaurs and Millitary Enemies
Can Easily overpower large Dinosaurs
Survived a Spaceship Crash
Captured Roland Kane
Fanon Wiki ideas so far
Possible Opponents
History
Death Battle Info
Ad blocker interference detected!
Wikia is a free-to-use site that makes money from advertising. We have a modified experience for viewers using ad blockers

Wikia is not accessible if you've made further modifications. Remove the custom ad blocker rule(s) and the page will load as expected.