Vampirella vs Morrigan Aensland  is a What-if Death Battle.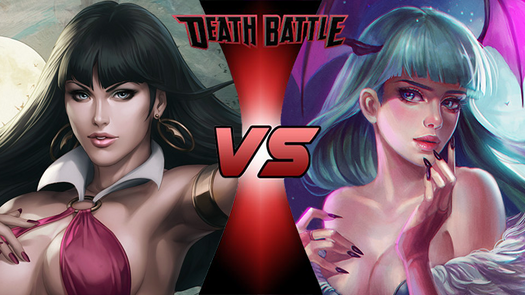 Description
Queens of Hell and desire of any man. Vampirella and Morrigan enter a Death Battle to see who is the most deadly and sensual queen.
Interlude
(cues Invader jim johnston)
Vampirella
(cues Berserk Golden Age Arc I:The Egg of The King- The Wrath of God (Part II))
Morrigan Aensland
(cues Marvel vs Capcom-Theme of Morrigan anesland)
DEATH BATTLE
(cues Darkstalkers Revenger Morrigan aenland Theme)
Conclusion
Ad blocker interference detected!
Wikia is a free-to-use site that makes money from advertising. We have a modified experience for viewers using ad blockers

Wikia is not accessible if you've made further modifications. Remove the custom ad blocker rule(s) and the page will load as expected.