Yveltal
is a legendary Pokemon from the same title series.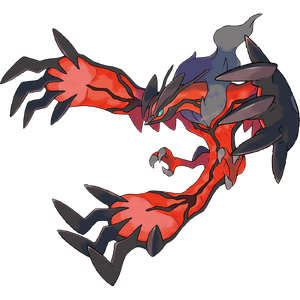 Fanon Wiki Ideas So Far
Possible Opponents
History
Yveltal is classified as a Pokémon that brings destruction and heralds doom. It was at some point killed and formed a cocoon which was taken away by Lysandre and revived to power the Ultimate Weapon, which would destroy most of Pokéarth and bring the world to an end except for a select few.
Yveltal was eventually reawakened and captured, preventing this and used to defeat Lysandre in a battle. It is a Dark and Flying Type and classified as the Destruction Pokémon. It is 19'00" in height and weighs 447.5 lbs.
Death Battle Info
Name:- Yveltal
Type:- Dark/Flying
Weaknesses:- Dairy, Ice, Rock, Electric
Resistances:- Dark, Ghost, Grass
Immunities:- Ground, Psychic
Moves
Snarl:- A growl that lowers the opponent's Special Attack.
Dark Pulse:- Yveltal emits a dark aura, which may make the opponent flinch.
Roost:- Yveltal loses the Flying typing for a turn to heal itself by around half its HP.
Double Team:- Yveltal increases its evasion with clones.
Hurricane:- Yveltal creates a strong gale which can confuse the foe.
Taunt:- Yveltal teases the foe, preventing them from doing anything but attacking for a few turns.
Razor Wind:- Yveltal absorbs wind like blades and hurls them into the opponent.
Air Slash:- Yveltal slashes the opponent with razor like air.
Disable:- Yveltal disables the last move its opponent used.
Foul Play:- Yveltal turns the opponent's attack against them.
Focus Blast:- Yveltal launches a shot that does massive damage and may lower the opponent's Special Defense.
Psychic:- With psychic energy, Yveltal messes around with the opponent, possibly weakening their Special Defense.
Phantom Force:- Yveltal vanishes into thin air and reappears with a ghost portal, striking the opponent.
Dragon Rush:- Yveltal slams into the opponent like a dragon crashing, possibly making them flinch.
Sucker Punch:- Yveltal stops the opponent attacking and attacks them first. This move only works when the opponent is attacking.
Hyper Beam:- Yveltal shoots a blast so powerful, that afterwards even it needs to relax.
Sky Attack:- Yveltal takes in energy and launches off a huge blast that deals massive damage.
Oblivion Wing:- Yveltal sucks out the opponent's energy with his wing.
Feats
Can power the ultimate weapon single-handedly, which can destroy multiple continents.
Went toe-to-toe with Xerneas.
Turned Ash's Pikachu into stone.
Helped defeat Lysandre.
Other Abilities
Can turn enemies to stone.
Can suck away the life force of enemies.
Flight.
Said to cause mass destruction.
Energy absorption.
Dark Aura powers up Dark type moves.