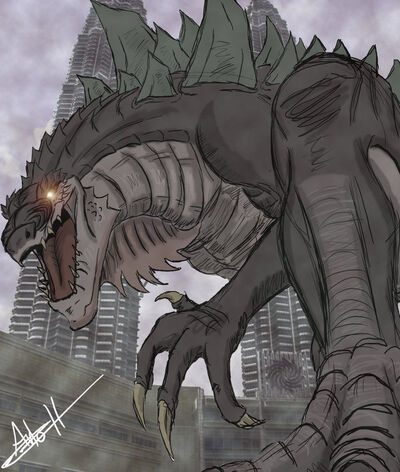 Zilla is a Kaiju that first appeared in Godzilla (1998).
Fanon Wiki ideas so far
Possible Opponent
History
Death Battle Info
Background
Species: Marine Iguana
Mutated by nukes
Height: 90 meters
Weight: 20,000 tons
Weapons
Incredibly strong bite
Regeneration to a degree
Sharp claws
Can run at 480 kilometers per hour
Adept swimmer
Extraordinary jumper
Can reproduce asexually
Green Fire Breath
Faking Death
Fast Digger
Very Sneaky
Feats
Put up a fight against Godzilla in Godzilla: Rulers of Earth.
Defeated Many Monsters (Godzilla: The Series).
Can Tair Through Buildings and Rock with Ease.
Defeated Cyber-Zilla.
Killed Trilipod Godzilla and Titanosaurus.
Weaknesses
Was killed by the military (In his weakest version)
Was killed by Godzilla in 16 seconds in Godzilla Final Wars
Gallery
Ad blocker interference detected!
Wikia is a free-to-use site that makes money from advertising. We have a modified experience for viewers using ad blockers

Wikia is not accessible if you've made further modifications. Remove the custom ad blocker rule(s) and the page will load as expected.